Hire Clubrooms and Coolbinia Cricket Ground
If you would like to Hire the Coolbinia Cricket Clubrooms between November 1 and March 31 then please contact the club to find out about availability and the below hire form will need to be completed.
Click Below to Open Form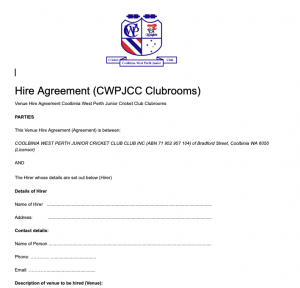 Go to Hire Form Page and Print This Out
Function Room Hire Contact Person 2019/2020: Dale Carter - 0411 352 766
PRICE OF HIRE
See the document above for hire rates.
Committee Notes:
A copy of the hire agreement document can be edited on google docs. The login is [email protected] and Dale Carter has the password in his phone password application. Sharing of editing of the document can be provided to your email address.